Arrange an Italian master class at your corporate office or at the Idiom Tasting Centre. Depending on your budget, the quantity of people attending and the calibre of wine you wish to taste, we will create and suggest a master class that fits your cost and taste profile. Bespoke master classes are developed for a minimum of 15 people and starting costs are around R1,000 per person, including the wine and the wine guide through the experience. Johannesburg events require flight costs to be held.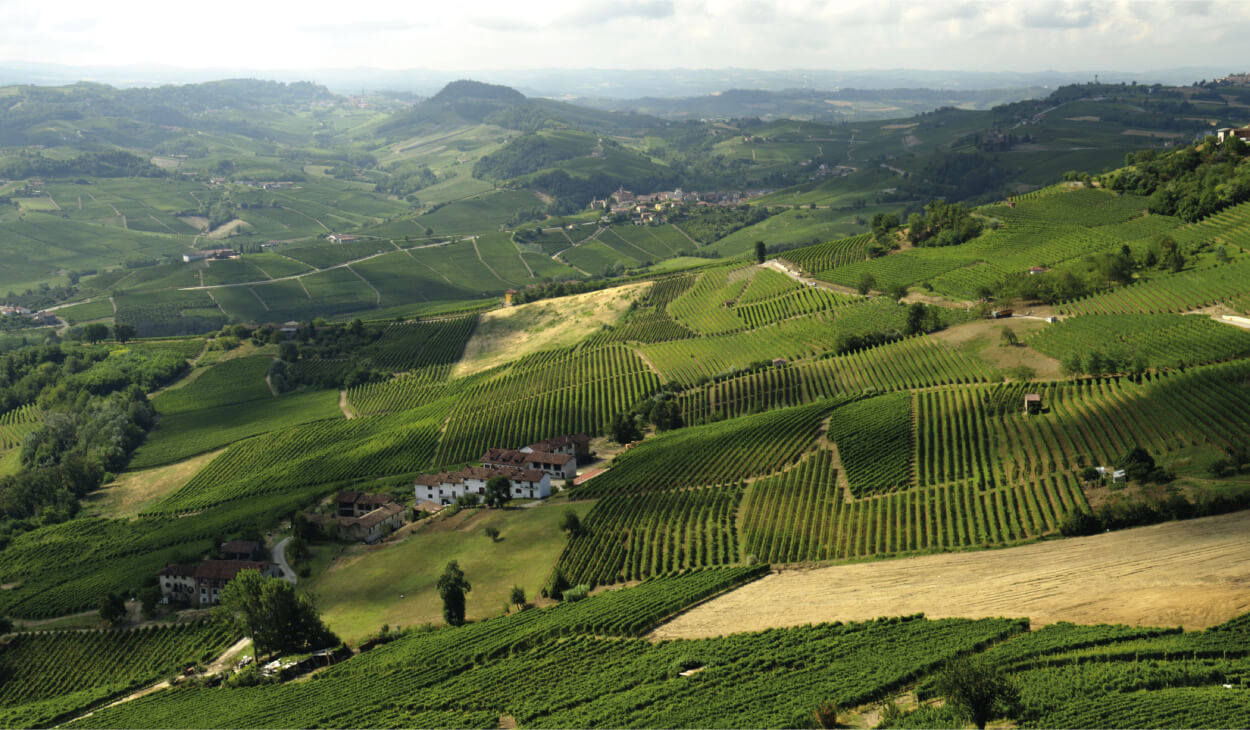 Nebbiolo, Barolo or Barbaresco?
The wine of Kings, or the King of wines? Nebbiolo's name is thought to derive from the Italian word 'nebbia', which means fog, but the name might also be a derivation of 'nobile' or noble, hinting at its importance. We try Nebbiolo in its different guises, from the Langhe and from the two cru towns of Barbaresco and Barolo, and we throw in some local examples to compare the styles. We also include a Barolo single vineyard cru.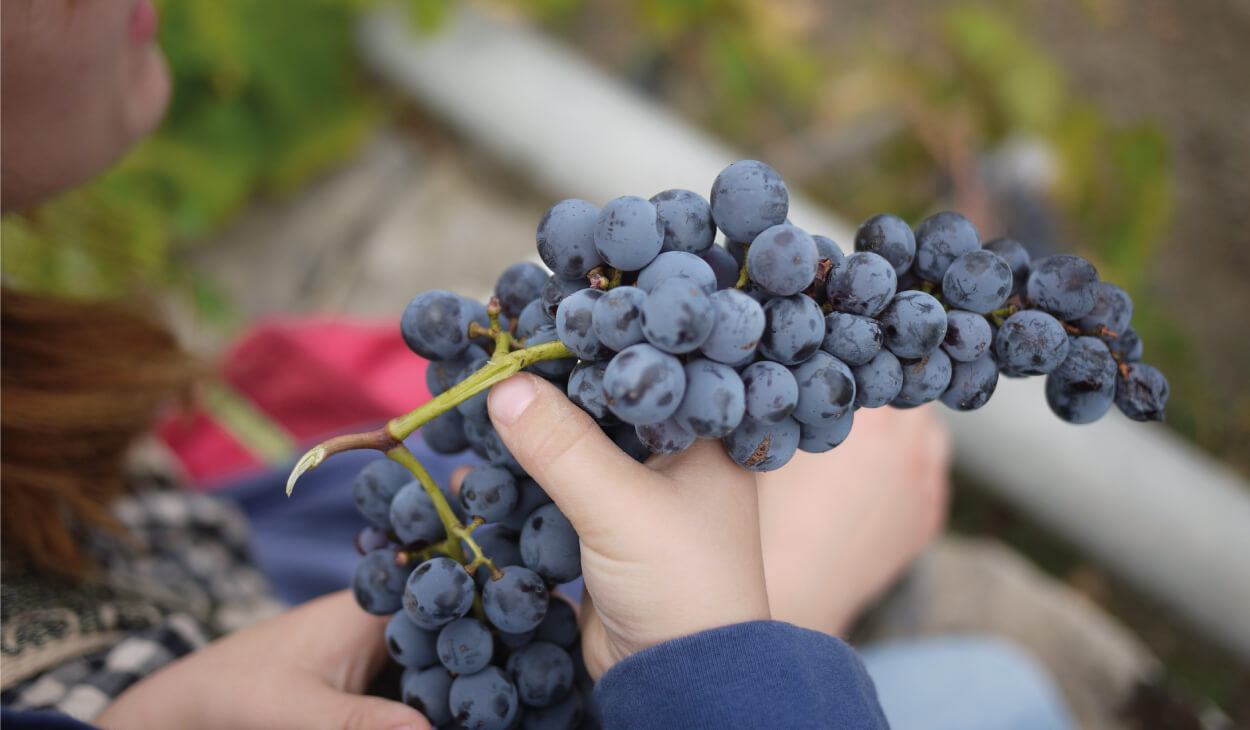 Nero d'Avola
Nero d'Avola literally translates as 'Black from Avola'. Although Avola is a town in southern Sicily. this intriguing grape is grown all over Sicily. Vinotria represents two wonderful producers – the Rallo family that own Donnafugata and the Tasca family, producers of Tasca d'Almerita. Each winery has several properties across the island of Siciliy. A guided tasting of their different Nero d'Avola wines, from everyday food wines to rich, sunwarmed meditation wines. Includes icon wines Mille e una Notte and Rosso del Conte.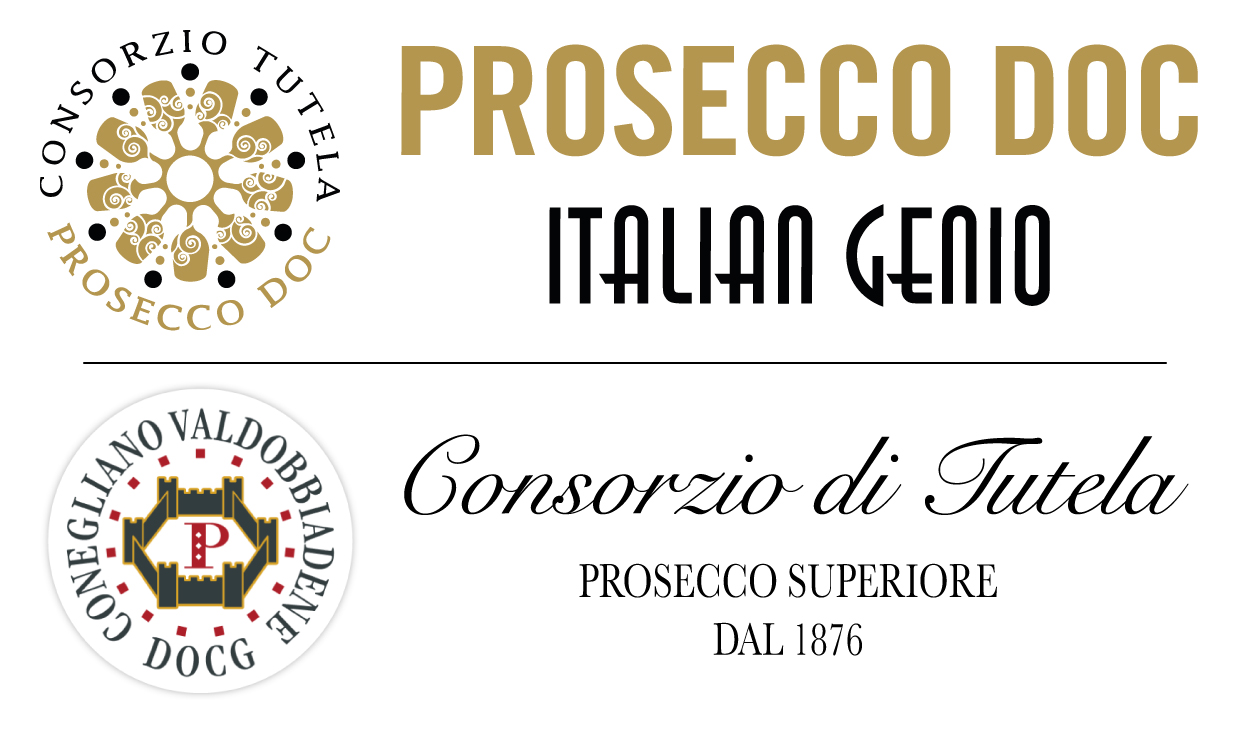 Prosecco
Explore with our expert guidance all the secrets of the fastest growing wine category of the last decade. Taste Proseccos from the best producing areas in Italy and learn about the different appellations, how soils and climatic conditions can differenciate between an everyday quaffer from a royal sparkle. Learn how to recognize genuine Prosecco and how to avoid fake products available in shops and restaurants sold as genuine products while in fact they are generic fizzers.You will leave our tasting room asking for more.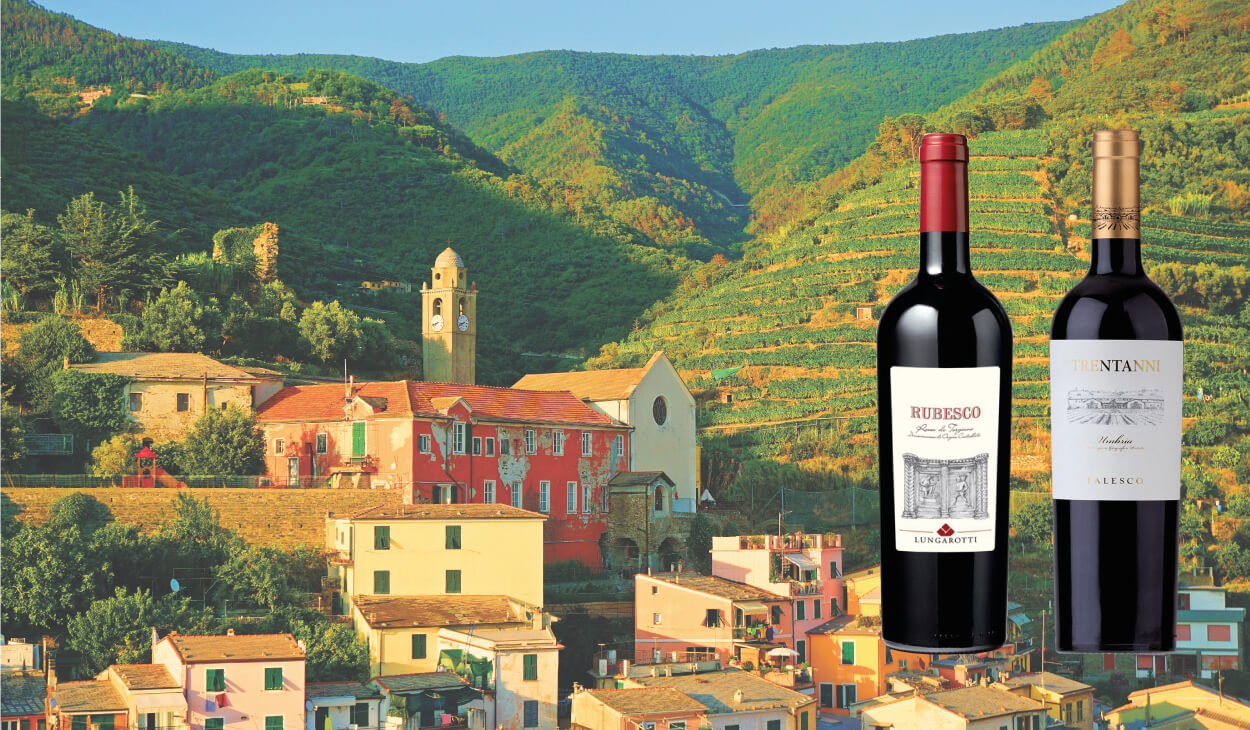 Wines Of Umbria
You want to know more Umbria, the green heart of Italy and one of Italy's smallest viticultural zones where visionary entrepreneur Giorgio Lungarotti brought to international audiences his earthy Sangiovese blend called Rubesco and the elegant white Torre di Giano.. The Rubesco Riserva regularly features in Italy's Top Ten wines. Their latest project in Montefalco showcases the region's other knockout grape, Sagrantino. We taste wines from the range and get a virtual tour of their famous wine and olive oil museum and spa and accommodation facilities located in Torgiano.
A fantastic overview of Italian wine.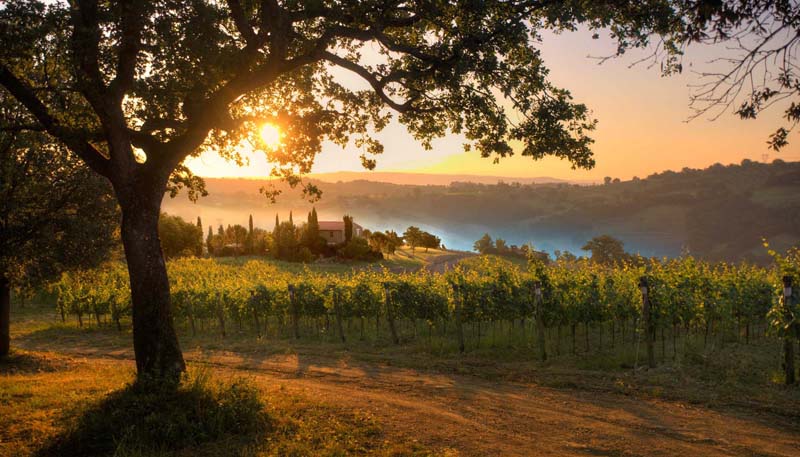 Vermentino Workshop
What a great way to kick off the weekend!
Think Costa Smeralda and Alghero in Sardinia and the area around the CinqueTerre down to the Maremma in southern Tuscany.
A guided tasting of Vermentino from Sardinia, Liguria, the Tuscan Coast and now we have the first plantings in the Cape.
As a result we've asked Michela Sfiligoi of Ayama to present this workshop, being the first SA producer of Vermentino. This is a trendy variety internationally and wines can range from fresh and light-bodied in character to rich and complex in taste.
A Sauvignon Blanc alternative? You decide…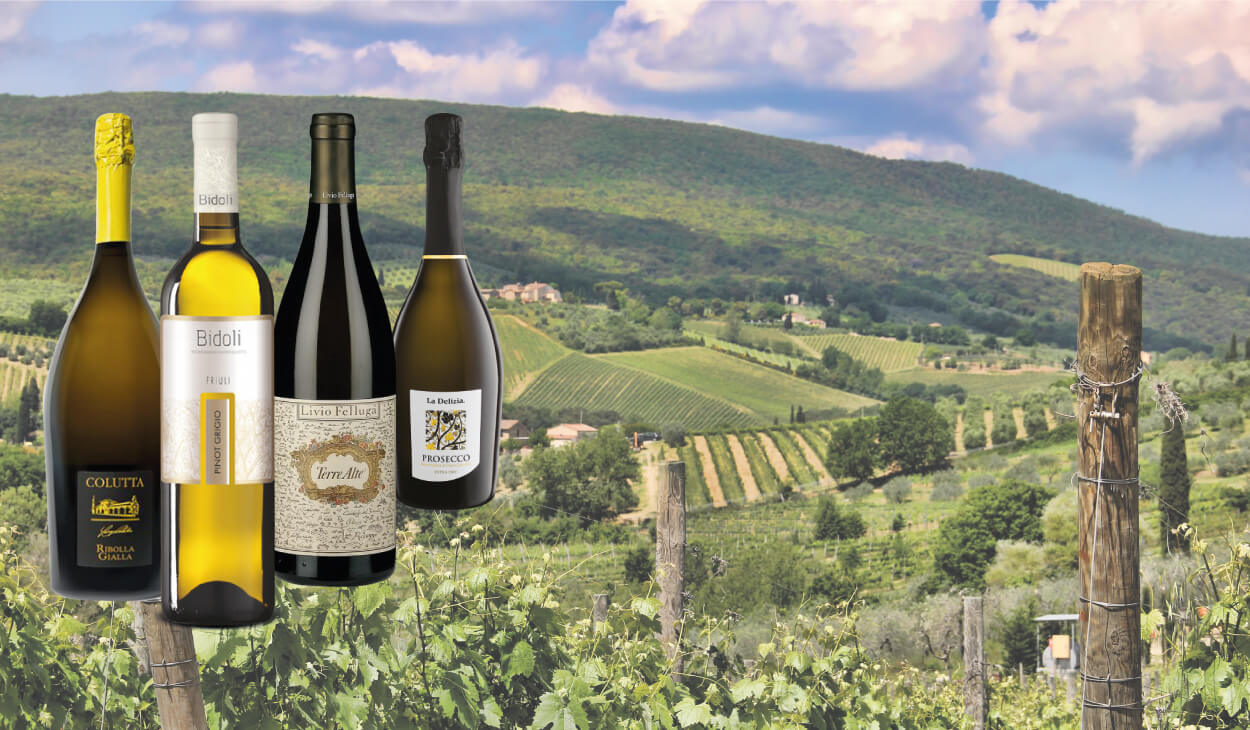 Friuli Whites
It doesn't get better than this. We have producers Giorgio Colutta and Maurizio Felluga – son of Livio Felluga – here in Cape Town to present the best of Friuli whites and reds and to tell us the story of Friuli wines, where the whites are considered among the best in all of Italy.
Ribolla Gialla, Pinot Grigio, Friulano and Sauvignon Blanc are the white Friulian building blocks however the blends of these varieties in particular have achieved worldwide recognition, especially those from an area called Rosazzo, where the vineyards have to leased from the Vatican! Taste the single varietal wines and iconic blends Abbazia di Rosazzo and Terre Alte from Livio Felluga – voted best white wine in Italy 5 times – as well as La Tunella's Biancosesto and Colutta's Nojars blend. Not to be missed! We have allocated a double slot for the tasting.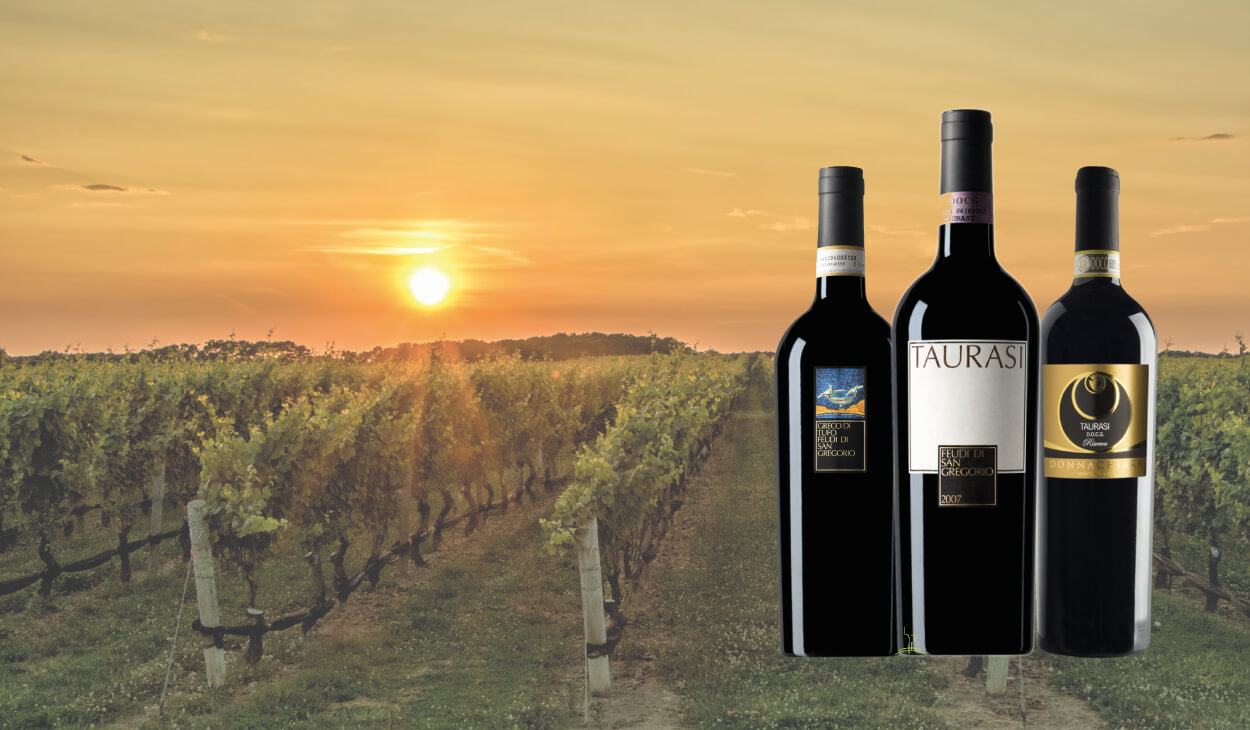 Campania Wines
Picture the Bay of Naples, Pompeii, Sorrento, Positano and the rest of the beautiful Amalfi Coast. For three thousand years the volcanic slopes around Mount Vesuvius have been planted to unique grapes varieties
first by the ancient Greeks then by the Romans, who also developed a complex appellation system. Aromatic, delicate yet favourful, and decidedly mineral, these are wines that cry out for a beautful plate of Fritto Misto.
Try Falanghina, Fiano di Avellino, and Coda di Volpe produced by rising star winery Donnachiara now under the guidance of top consultant winemaker Riccardo Cotarella as well as Greco di Tufo from benchmark winery Feudi di San Gregorio. As a bonus we throw in some red Aglianico.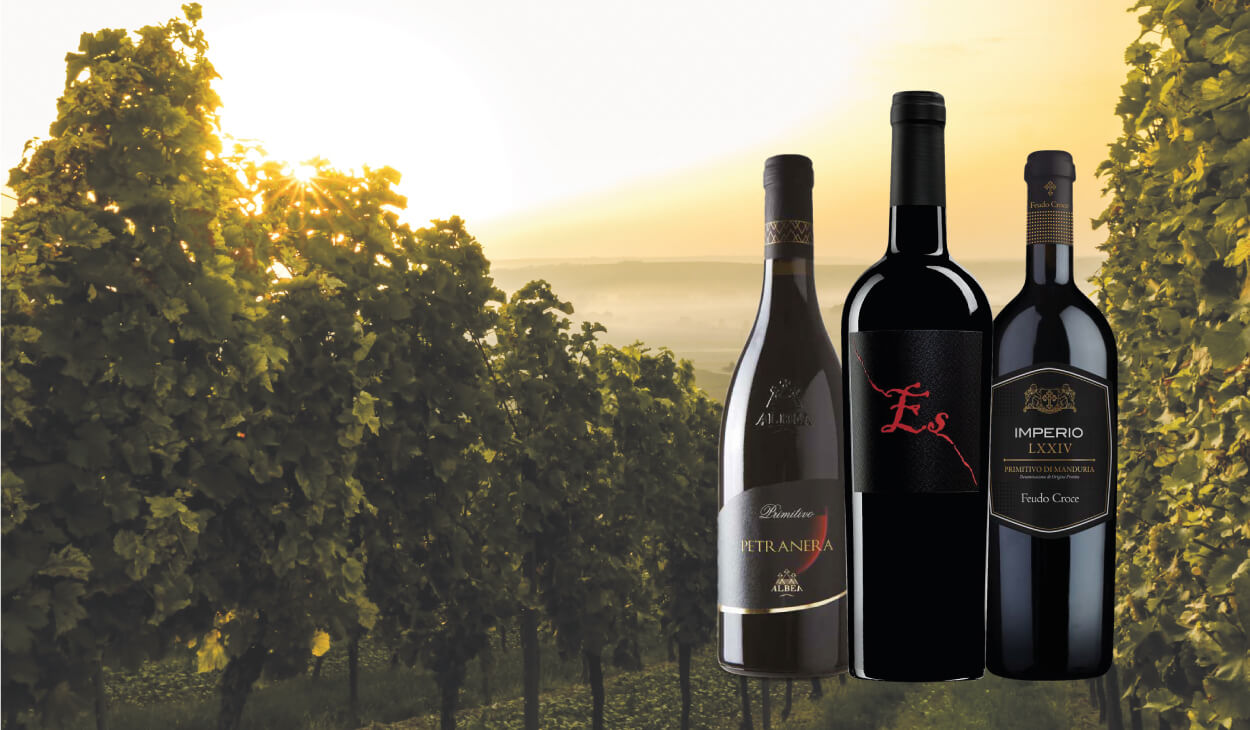 Primitivo from Puglia
Did you know that the number 1 rated wine in Italy is a Primitivo from the stilletto heel part of the Italian boot? And we have it in the tasting!
Discover the different expressions of Primitivo from Puglia as we taste examples from Salento and Manduria. We talk about the link with Zinfandel in California and Tribidrag in Croatia.
Taste wines from Cantina Albea, Feudi di S.Gregorio, Feudo di S.Croce's Imperio (which is a Top 100 Wine Spectator wine), and last but not least Gianfranco Fino's Es top rated wine where the balance of the wine will blow you away.For fun we throw in a couple vintages of Idiom's Zinfandel (Primitivo) to see what southern Stellenbosch can offer when it comes to Zin.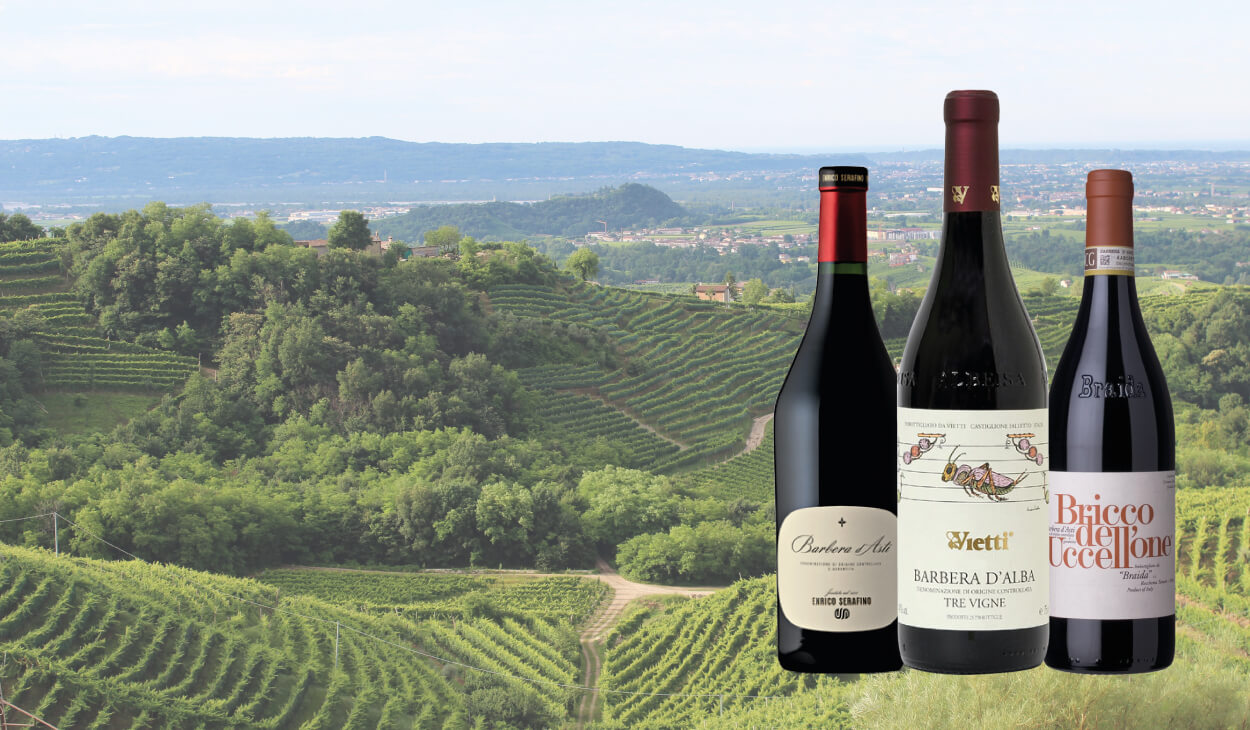 Barbera: Asti, Alba & Beyond
Presented by Piedmont lovers and top local sommeliers Barry Scholfield and Esme' Groenewald. Compare Barbera wines from Asti and Alba in Piemonte, the Oltrepo Pavese Area of Lombardia, and compare these to Idiom's Barbera.Listen to the story of the methanol scandal that threatened to destroy Barbera in Italy and the subsequent rebirth of the variety under the guidance of the six Barbera families, including Giacomo Bologna, considered the father of modern Barbera.
Taste wines from three of the six families – Braida, Vietti and Coppo. Includes icon wines Bricco dell'Uccellone (as well as the sommelier favourite Montebruna, Coppo's Pomorosso and Idiom's 900 Series Barbera. A real treat!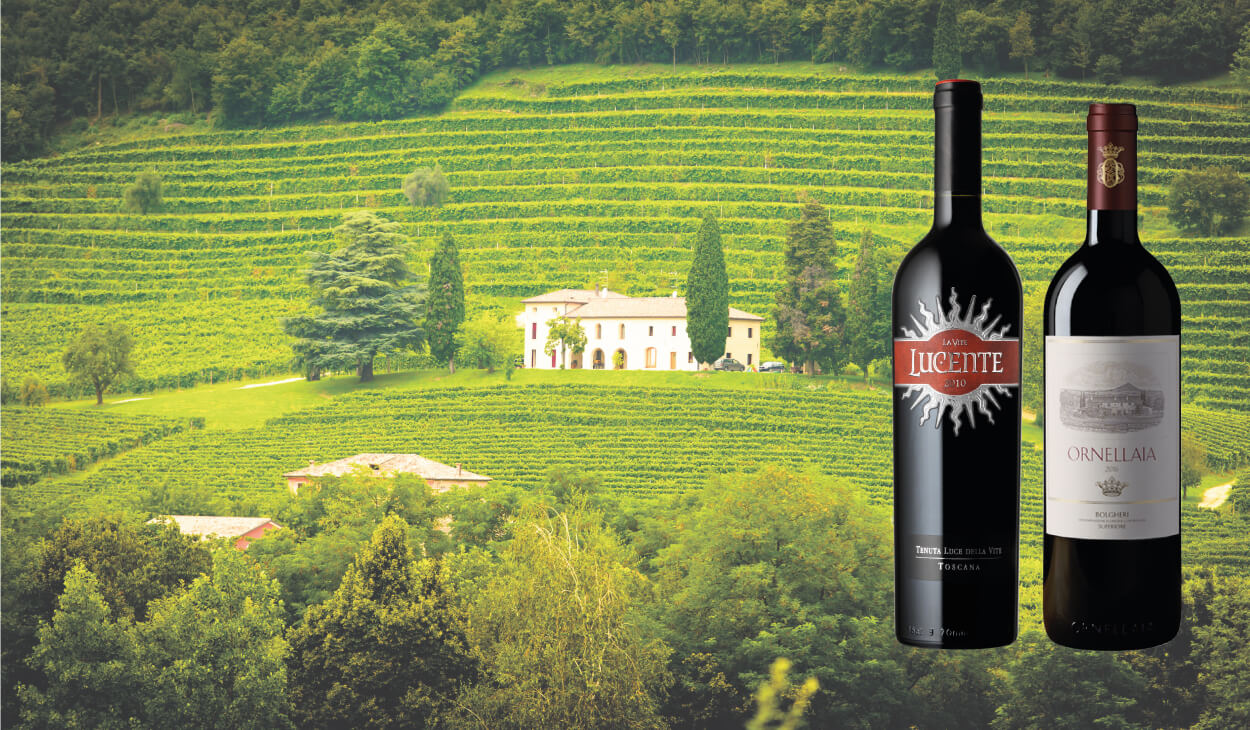 Bolgheri Super Tuscans On Enomatic
Available for tasting all weekend on the Enomatic wine dispenser on rotation, we have Tenute Luce della Vite's Lucente and Luce Supertuscan blends made in Montalcino from Merlot & Sangiovese, and then from Bolgheri we showcase the prestigious Ornellaia trio of Le Volte, Le Serre Nuove, and Ornellaia. R100 to taste 4 wines, all available for purchase by the glass or to take home for your private collection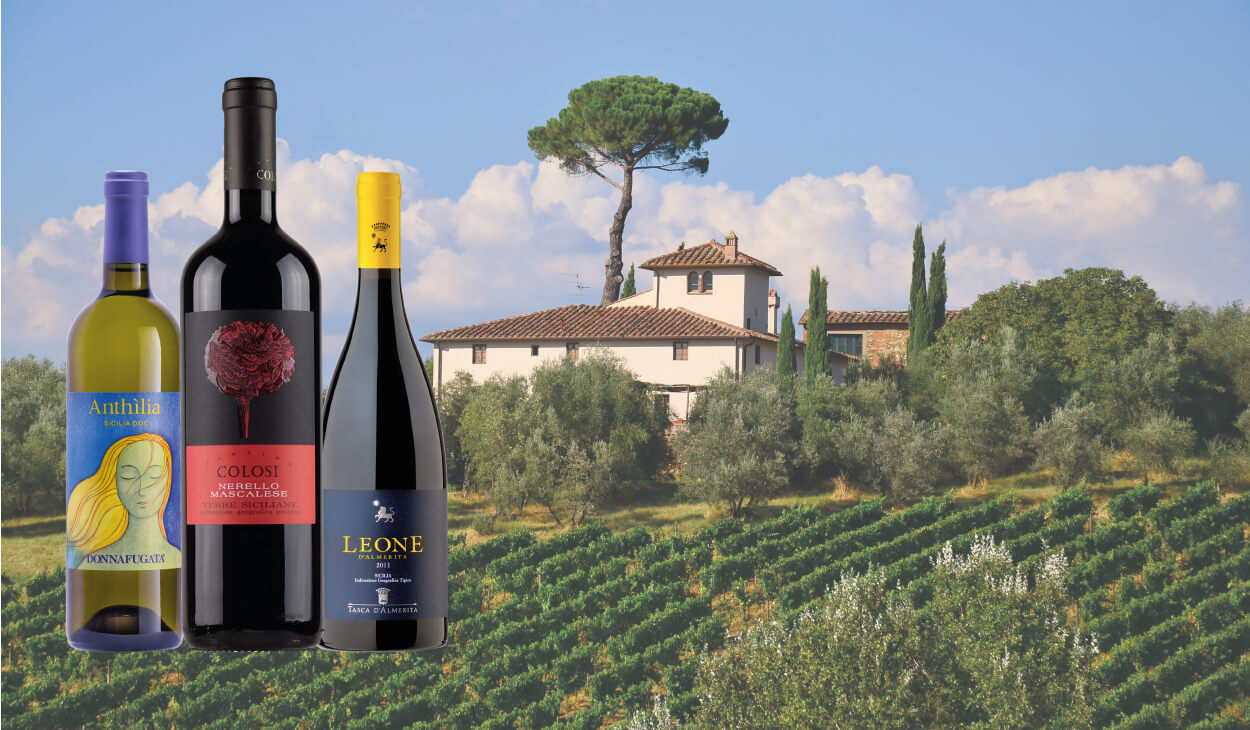 Sicilian Splendour
Our value find of 2018! A tour of Sicily and the surrounding Volcanic Archipelago of the Aeolian islands. We taste a mouthwatering salty, sapid Bianco from Salina made from Sicily's indigenous Inzolia and Catarratto grapes and compare it to a Grillo from Tasca d'Almerita and Donnafugata's Anthilia, possibly their most enjoyed wine in the world. For the red flight, we try the matching Salina red made from Nerello Cappuccio and Nerello Mascalese. We then move onto the Etna region to taste different examples of Nerello Mascalese from Colosi and Tascante. We finish with some Nero d'Avola from our collection.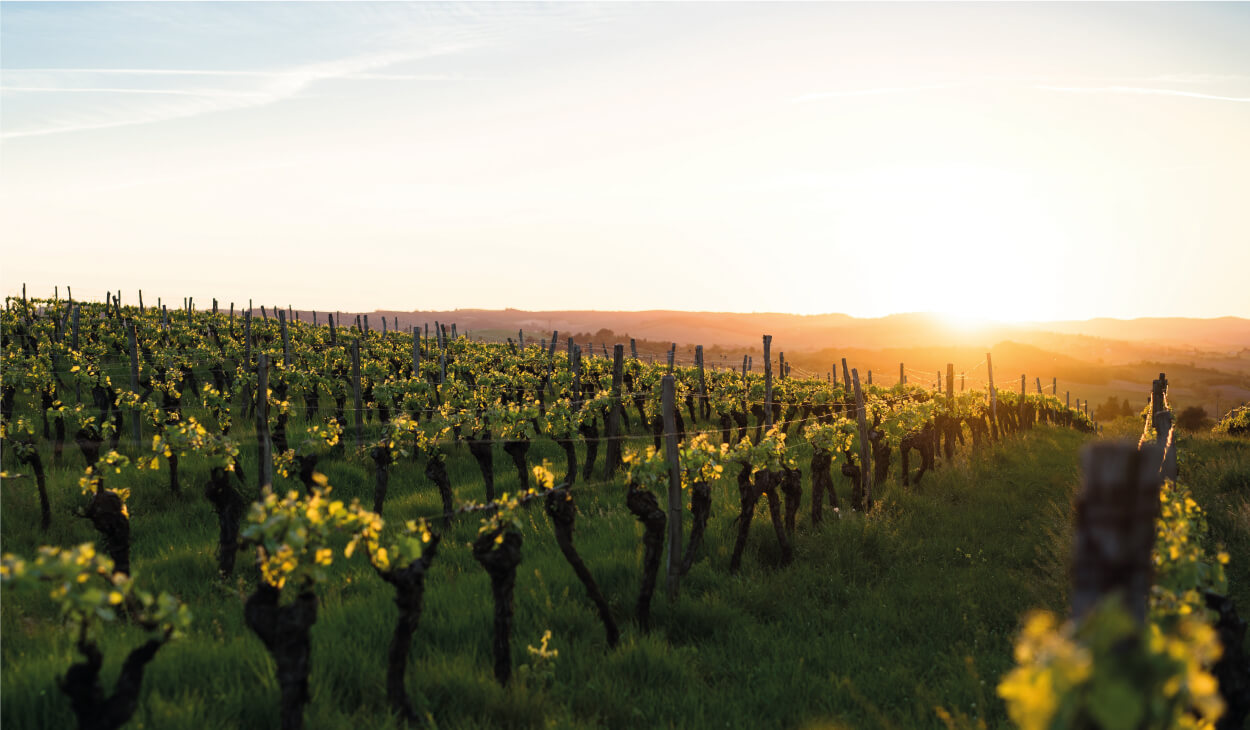 New Additions To Portfolio 2019/20
Experience a whirlwind guided wine tour of Italy as we share our new additions to the Vinotria portfolio. New arrivals from our currently represented or newly added producers! Our portfolio is expanding all the time, is search of inspiring new products that can meet the taste of our South African customers and have passed our strict selection process during our extensive tastings on site.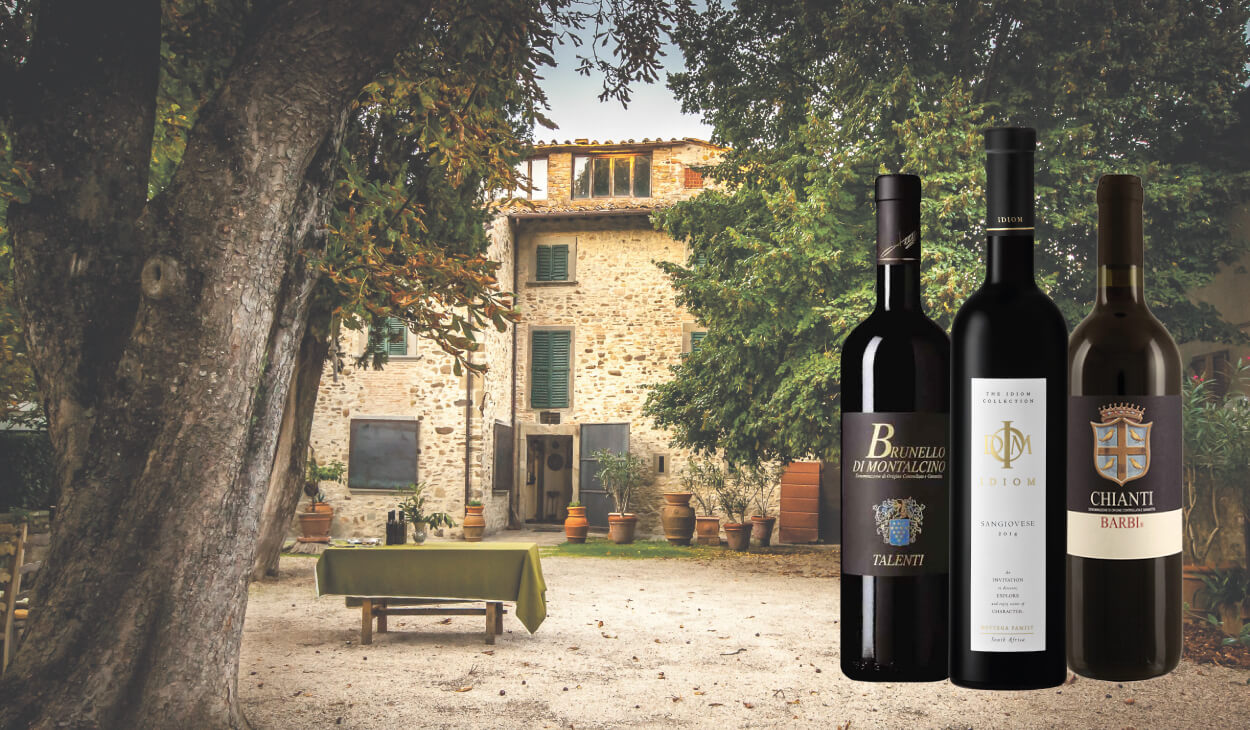 Friendly Test: Sa Vs Italy Sangiovese
We try 12 Sangiovese wines including some benchmark wines from different parts of Tuscany, Umbria,and Emilia Romagna in Italy and local counterparts from Stellenbosch, the Swartland and the Hemel en Aarde valley. We rank them from young to old and see whether the famous Sangiovese grape can travel outside of its native Tuscany. We invite our visiting Italian producers from Volpaia and Lungarotti to participate in the tasting so there are no home town decisions! This tasting should give all participants a fantastic overview of the different expressions of regional Sangiovese at different price points, styles and intensities. Do not miss this one!